Horizontal
sliding door
sgs
The investment in functionality and safety
SGS HORIZONTAL FIRE SLIDING DOOR (EI 30, EI 60, EI 120)
DESCRIPTION
The SGS horizontal fire sliding doors are perfect for installation in various building conditions. They may be used in public buildings wherever there is a need for separation of fire hazard zones. The door may be supplied with an emergency exit door, with or without a threshold, and equipped according to individual needs. Doors are available in a smoke control or an Ex version.
The SGS doors may be fixed to concrete, brick, clay tiles, silicate walls and steel structures with required fire resistance.
Steel sliding fire doors are custom-made according to European standards and approval of Building Research Institute No. AT-15-8452 / 2013. In addition, the doors have PZH Certificate No. HK / B / 0998/01/2013 and can be used in Ex zones I and II. II 2G c T4 in accordance with Directive 94/09 / EC and the standards EN 1127-1: 2007, EN 13463-1: 2009, EN 13463-5: 2011 TR / CLC 50404: 2003.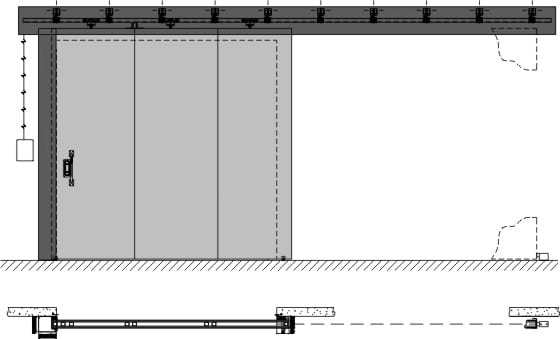 DOOR STRUCTURE:
The door consists of individual slats based on the steel frame structure. Slats are covered with a flame-retardant material and metal sheet;
Stability of the of door leaf is achieved by strengthening the panels with the steel profiles connected with threaded rods;
Slats are suspended on a guide track; each slat has a separate roller carriage;
Doors can be closed by means of a counterweight or gravity;
Guaranteed mechanical resistance of the door: 50 000 operating cycles (for electrically operated doors).
AVAILABLE SURFACE FINISH:
Standard – galvanized surface;
Painted in one of the four standard RAL colours (7035, 9002, 9006, .. 9010);
Painted in any RAL colour;
Made of stainless (acid-resistant) steel;
Doors may also be finished with MDF, PVC, HDF, solid surface veneer or natural wood veneer according to customer's choice.
TYPES OF DOORS:
Single-leaf (optionally smoke proof)- the door leaf forms a whole/ consists of one part. An individual leaf sliding left or right;
Double-leaf optionally smoke proof)- The door leaf is divided into two parts (symmetrical or asymmetrical). two individual leaves sliding to either side of the opening;
Telescopic – each leaf consists of 2–3 sections that telescopically slide one behind the other to the left or to the right. Thanks to this solution, the amount of space required to set the door in open position can be reduced.
SGS DOOR CONTROL:
Electromagnetic brake (for door leaf of surface area above 4 square meters). Has the option of setting a constant speed of door closure and stoppage at any position, in case of manual door operation in a non-alarm mode
Electromagnet brake (for door leaf of surface area up to 4 square meters). – no possibility to regulate closing speed, the door leaf can only be stopped in the end positions – open or closed
MASTER electric motor with a control and fire unit:
Control unit ensures door opening and closing with motor;
The system contains control buttons on either side of the door;
Door opening is secured by an one-way photodetector ;
In case of an alarm the door is closed by a motor supplied with emergency power supply (UPS) located at the control unit;
Optional remote control of the door;
CONTROL UNITS:
Slidetronic fire control unit (door without electric drive)
230 V/6 A supply;
Serves for controlling an electromagnetic brake or electromagnet;
It can receive signals from controlling devices and send signals to the controlled devices;
Optional installation of a 24 V reserve battery, preventing immediate closing of a door leaf under normal operation in the event of a standard power outage;
Can be connected to an autonomous detection system or to the EPS signal;
Integrated START-STOP button.
Blocktronic button (door without electric drive)
Interrupter button which interrupts the power supply when pressed and unblocks the door leaf for a period of 130 and the reblocks it;
Can be used to control an electromagnetic brake or electromagnet.
1RM1 control and fire unit:
Necessary if electric drive is used;
It controls the drive;
Depending on the used drive may have a built-in a UPS.
ACCESS DOOR AND ESCAPE EXIT DOOR:
Optional one or two access door with or without a threshold;
Built-in and fully aligned with the door panel;
versions EI 30, EI 60 equipped with internal hinges buIt into the door enabling the opening of the door of the door opening both to the inside and outside;
In the standard version supplied with a roller lock that provides an anti-panic function;
Hidden door closer (optional built- in the door leaf).
ACCESS DOOR EQUIPMENT:
Mortise rounded lock – provides an anti-panic function (door cannot be locked;
Mortise cylindrical bolt lock –without anti-panic function, adapted for patent lock;
Panic lock – optional installation of patent lock, lever handle or panic handle;
Door fittings built-in the door leaf (handle /shell pull handle);
Slide-track arm door closer (standard);
Hidden door closer (built- in the door leaf) – optional.
ADDITIONAL MECHANICAL EQUIPMENT:
Hook bolt lock enabling door locking – lock with insert patent to close and open the doors from both outside and inside;
Glazing – 500 x 300 mm with the fire rating identical as the door curtain.
* Requires use an electric motor