Vertical
sliding door
ggs
The investment in finctionality and safety
GGS VERTICAL FIRE SLIDING DOOR
DESCRIPTION:
Are usually used in case of high lintel and limited space on the sides of the opening. They are custom-made according to the customer's dimensional requirements. They are tested according to European standards and approval of Building Research Institute No. AT-15-8452 / 2013.
Door closing is typically gravity-operated or using one of the offered electric motors. The door may be supplied with an emergency exit door with or without a threshold, and equipped according to individual needs. Doors are available in a smoke control or an Ex version.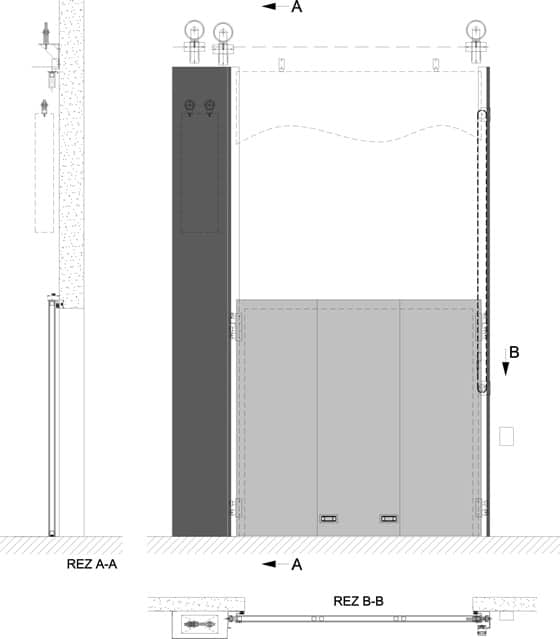 DOOR STRUCTURE:
The door consists of individual slats based on the steel frame structure. Slats are covered with a flame-retardant material and metal sheet;
Stability of the of door leaf is achieved by strengthening the steel panels with the profiles connected with threaded rods;
The assembled door leaf is equipped with two roller carriages and is suspended in the door track on steel cables with rupture protection;
Doors are available in a smoke control or an Ex version;
Guaranteed mechanical strength of the door: 50 000 operating cycles;
AVAILABLE SURFACE FINISH:
Standard – high-quality galvanised coating;
Painted in one of the four standard RAL colours (7035, 9002, 9006, 9010);
Stainless (acid-resistant) steel;
Doors may also be finished with MDF, PVC, HDF, solid surface veneer or natural wood veneer according to customer's choice;
CONTROL UNITS:
The fire panel Slidetronic (Door without electric drive):
230 V/6 A supply;
Serves for controlling an electromagnetic brake or electromagnet;
It can receive signals from controlling devices and send signals to the controlled devices;
Optional installation of a 24 V reserve battery, preventing immediate closing of a door leaf under normal operation in the event of a standard power outage;
Can be connected to an autonomous detection system (detectors) and the signals from the central EPS;
Integrated "START-STOP" button.
GGS DOOR CONTROL:
Electromagnetic brake with the option of setting a constant speed of door closure and stoppage at any position, in case of manual door operation in a non-alarm mode (for door leaf of surface area above 4 square meters)
Electromagnet no possibility to regulate closing speed, the door leaf can only be stopped in the end positions – open or closed
MASTER electric motor with a control and fire unit (door with counterweight)
Motor control ensures smooth door opening and closing;




The system contains control buttons on either side of the door, including photodetector;




In case of an alarm, the motor closes the door either by a signal from UPS emergency power supply;




Optional remote control of the door.



SI motor with FSTronic DES-FI control (door without counterweight)
Industrial motor with long cycle life up to 100,000 cycles;


1×230 V/20 A

supply;


In case of an alarm, the door is closed by means of a battery;




Possibility of emergency manual opening of the door using a crank or chain;




The battery can be enlarged to enable electrical safety opening the door without an external power source.



The hydraulic drive with the panel FSTronic Hydro:
3×400 V suply;


Drive provides gravitational closing of the door in both the normal and alarm mode;




No possibility of emergency manual opening of the door in case of power failure;