Roller
door
rgs
The investment in functionality
and safety
RGS FIRE ROLLER SHUTTER DOORS (EI 30, EI 60, EI 120)
Description:
RGS FIRE DOORS may be used in every place where the space of the door opening is limited. They excel in easy, compact construction solution and simple assembly. They are also undemanding in space (only 450mm of lintel).
In the standard version the outer surface of the horizontal lamellas are manufactured of galvanized profiles of high quality. In case of request for fire proof rolling shutters in colour, there is no problem to deliver them in colour shade of RAL according to customer request. They can also be made of stainless (acid-resistant) steel.
The RGS doors may be fixed to concrete, brick, clay tiles, silicate walls and steel structures with required fire resistance.
Each RGS door is custom-made according to the customer's dimensional requirements in accordance with European standards and approval of Research Building Institute No. AT-15-8452/2013. These products have been approved for sale on the Polish market and are guaranteed for 50,000 cycles.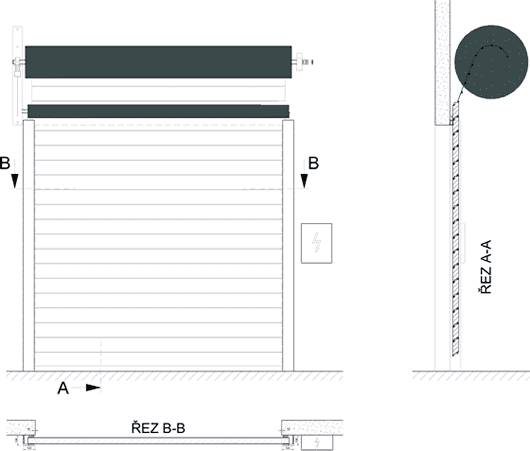 TYPERS OF RGS DOORS:
Standard – panels are wound onto the shaft placed on consoles over the opening;
Vertical – panels are tracked perpendicular to the top;
DOOR STRUCTURE:
Lamella height

150 mm

, thickness

60 mm

;
Shaft diameter

670 – 950 mm

;
Insulated slats (thermal transmittance is

(1.1 W / m2K)

;
Combination of panels eliminates the thermal bridge, very easy assembly and disassembly of the door blade;
Vertical tracks consist of galvanized steel filled with inflammable material and secured with swelling gasket;
Certified without shaft housing;
Possibility of the door in a soundproof version

(up to 55 dB)

and smoke-proof;
Guaranteed mechanical strength of the door for

50,000 cycles

;
DOOR CONTROL
FS (fail-safe) motor with FSTronic control:
Industrial motor with long cycle life up to

100,000 cycles

;

3×400 V/10 A

supply;
Under normal operation, the motor opens and closes the door;
Speed of closing the door in alarm mode regulates the electromagnetic brake powered by a battery mounted
in the control unit;
The door cannot be opened mechanically;
SI (KE) motor with FSTronic DES-FI control
Industrial motor with long cycle life up to 100,000 cycles;

1×230 V/20 A

supply;
In case of an alarm, the motor closes the door with the basic engine;
Possibility of manual opening of the door using a crank or chain;
The battery can be enlarged to enable electrical safety opening the door without an external power source;
ADDITIONAL ELECTRONIC ACCESSORIES:
Optical-acoustic signaling alarm mode;
Autonomous detection system (smoke detektor) – control device for closing doors in locations not equipped with EFS;
Light signals – red-green lamp used to signal the location and movement of the doors;
Infrared motion detector or radar. A device for opening the door optionally recognition function magnitude and direction of vehicles or;
Remote control – allows opening and closing of the door;
Light grating- a device protecting objects or persons from being crushed (1500mm);
Bottom safety strip – pneumatic or optical strip retaining door after contact with an obstacle during its closing;
Additional buttons that control the door, for example keys switches remote control device.
ADDITIONAL MECHANICAL EQUIPMENT:
Shaft housing of the door:
nstallation is not necessary in terms of fire resistance;
Door is tested and certified without housing.
Chain housing:
The solution is not necessary on grounds fire safety;
Recommended for safety reasons in case of low doors.